Commonly asked questions regarding account verification
You have just finished the account registration process but you are having troubles. There is a second step to complete before you'll be able to log in.
Please note that some of the screen captures are a little out of date. So if after reading this guide you still need help, please review the "I need help!" section for details on how to contact us.
_________________________________________________________________
My account is registered but I cannot log in.
My password and account name will not work.
Once you have completed the account sign up process, the next step is to verify your account via the email that was sent by our automated system. This step must be completed before you can log in as was explained once you successfully submitted the account registration steps.
Where did it tell me there was a second step that has to be completed?
We know that you are hoping to get into the game as soon as you can. So it's understandable that someone may overlook the details once they see the green box showing the account Registration was successful. It's the very next line that explains there is something else that needs to be completed before you can log in.
Registration Page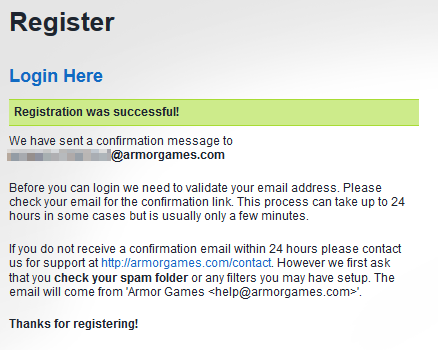 Before you can login we need to validate your email address. Please check your email for the confirmation link. This process can take up to 24 hours in some cases but is usually only a few minutes.
I don't see the email that was sent.
Depending on your email domain, the email should have been sent to you within 24-hours. Please make sure you are checking your Spam or Junk folders. Some email domains may automatically filter the email to this folder if you do not have @armorgames.com as a safe sender or part of the contact list if you know how to.


Are there other reasons why I didn't get this email?
Yes. There are a few common causes for why this may have happened.
If you are using an email that is monitored by your company, a government agency or even an educational institution, our emails may have been blocked by the IT team department.

You may want to ask them if you can add us to a safe sender list.

It is possible that you made a typo in the email or used a fake email address when you were creating your account.

To get this resolved, you'll need to contact us (see below) if you would like to use this account name.
Otherwise, you can create a new account name and make sure that the email address you enter is spelled correctly and is a valid email address.

Did you create your account before you created the email address?

If so the email was likely delivered to you before the email inbox was ever created. To resolve this you'll need to have the verification email resent to your email. The link is listed below.
To avoid this, please make your email account first and then register your account.
My verification email doesn't have a link to click on.
We've had some folks report this; however, we've been unable to verify the cause. If this happens to you, please check your inbox settings as you may have your email displaying text only formatting and not the more common HTML formatting.
You can either change your settings and request the verification email be sent again, or contact us to get help with your verification. If possible, please take a screen capture and after you submit the help request, locate the email from us to confirm your ticket submission and then attach the screen capture in a reply.
Can you resend my verification email?
You can request the verification email reset by visiting https://armorgames.com/login/resendverification
_________________________________________________________________
I need help!
No problem. You'll want to contact us and include the following details in your submission.
Your name: Please enter your account name that you entered when you registered your account.
Your Email: Please enter your email account that was used when you registered your account unless you used a fake email address. In that instance please enter a valid email address so we can respond back to you.
Subject: You'll want to select Account Help
Message: How long ago the account was created (date and time if you remember it). Details that we should be aware of such as you are in need of help with your email verification and other helpful information that is relevant such as, if your school is blocking your email it would be helpful to know that. If you think that you made a typo in your email, or if you used a fake email what that email address is.
Please avoid submitting a message with gibberish, or saying something broad like help. Doing so may result in a longer turnaround to help you. We'll need more information before we can begin to help you look into the problem as it's not clear what the nature of your troubles is.